---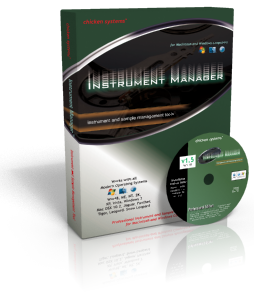 Mac and Windows Compatible
---
NOTES FOR TODAY
This product is a Version 2.0, 64-Bit product. If you would like the older 32-bit version, please select the "Legacy" version in the drop down.

This product is iLok protected, either via dongle or online authorization. There is no shipped product on the Version 2.0 edition; the Legacy edition is shipped.

After purchase, within 24 hours you will receive a activation code via email, and that will contain all the information you'll need to download and authorize.

---
Instrument Manager™ is designed to meet every real-world-need related to instrument management with ANY software/hardware sampler. It supports practically all Instrument file formats: Kontakt, Structure, EXS24, Reason NNXT, HALion, MachFive, Independence, GigaStudio, SFZ/Dimension, workstations such as Motif, Fusion, and Fantom, and old samplers such as Akai, Roland, Emu, Ensoniq, Kurzweil, and many more.
Use as a Browser.
Type in a simple search query in the iTunes-ish interface and your results come right up, reminiscent of Giga's QuickSound but more powerful. Drag anything off the interface and drop it onto any software sampler that supports dropping of files (Kontakt, Structure, etc.). Four individual customizable views allow total complete ease of use.
Windows and Mac. Any Instrument Format.
Whether you use a Windows or a Macintosh, Instrument Manager™ is compatible. No matter what sampler, or what file, Instrument Manager™ supports it. There isn't a computer or a instrument file that Instrument Manager™ can't handle.
No more bad links.
Using brand new innovative technology just developed, Instrument Manager™ can re link samples quickly and easily when the links are broken. But that's not all: re-direct links to new samples, or change link/sample names using Find-Replace techniques, plus other innovative re-linking schemes.
Power Databasing.
Any Instrument can be given metadata tags, and searched upon using those tags. Instruments can be grouped under user-defined groups for later access. Multiple databases are supported. Instrument Manager™ databasing can be synchronized with other sampler's database schemes.
The other stuff.
Use the Bank Builder to make your own custom Banks. Merge Instruments using the Object Merger. Rename Instruments, whether they are files or objects within a file. Audition sounds. Read, write, and browse proprietary disks such as Akai, Roland, Emu, Ensoniq, and Kurzweil.
For screenshots, a full presentation, and additional information, see the Instrument Manager Home Page.
Demo Available! For a demonstration and limited use, download Instrument Manager Free at no charge.
---
Version 2.0 edition
Maximum OS: OSX 10.15, Win 10
Minimum OS: OSX 10.11, Win 7
Legacy edition
Maximum OS: OSX 10.14, Win10
Minimum OS: OSX 10.4, WinXP SP3