---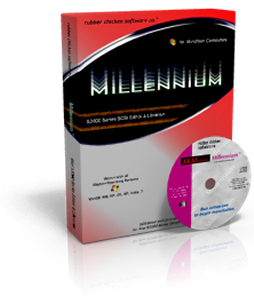 SCSI Editor for Akai S-2000/3000XL Series
Millennium is a program that allows communication with S2000 and S3000XL samplers over SCSI. It can send and receive samples, programs and multi's. It also allows you to view program and keygroup parameters and edit them in a graphical environment.
Fast and reliable sample transfers
Millennium allows you to send multi files, programs and samples to your sampler, at speeds that can even exceed loading them from hard disk. Because the samples are stored in .wav format on your PC's hard disk they are easy to edit, and together with the .prg and .mlt files they are easy to organize.
Intuitive, fast graphical interface
Millennium offers you pleasing graphical interfaces for editing programs, keygroups and multi files. Instead of many presses on the page up and down buttons, simply point at the parameter you want to change and drag it to it's right setting. The graphical envelope display gives a clear representation of what the envelope will sound like, and the Multi Mixer view lets you see all the important multi settings for all your parts in on one convenient screen.
Full sample editor integration
Millennium allows you to integrate sample editors such as Cool Edit or Sound Forge into your sampler. Simply double-click on the sample you want to edit, and it will be loaded into your editor. Once you are done, the sample will automatically be sent back into your sampler. It's almost as if your favorite sample editor is inside your sampler.
Advanced editing features
Millennium has many advanced features such as automatic pitch detection, automatic BPM detection, automatic generation of drum-map programs, keygroup sorting and removing of unused samples. Tedious operations that would normally take a long time can be done in a matter of seconds, leaving more time to get on with the fun part of making music.
IMPORTANT! if you run a 64-bit Windows operating system, read here before you purchase for more information.
Please note that this program is NOT downloadable, you have to wait for the CD in the mail. This is the choice of the author.