---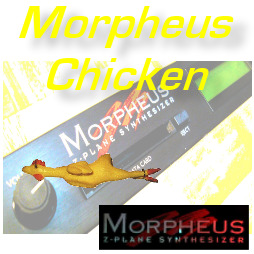 Keyboard Magazine described physical modeling as "the next big thing" to hit the sound producing community. The E-mu Morpheus was the first semi-attempt to achieve this goal (the Yamaha VL-1 was the first real one).
Morph-ing is a concept of merging two wavesamples at their harmonic level, thus producing wonderful changing lush sounds. These aren't synthetic - you might have never heard these sounds before in your life!
The E-mu Morpheus was a digital rackmount synthesizer. It features complete 16-channel MIDI implementation that can control most parameters as well. The Morpheus is also easy and intuitive to operate. This plus a dual effects processor and up to six individual outputs make this a professional synth worthy of professional studio work. From film scores to textural ambiences, the Morpheus and its Z-Plane technology will satisfy you. It is used by Orbital, Astral Projection, Hardfloor, LTJ Bukem and Fluke.
Rubber Chicken Software brings these hyper-creative sounds to your EPS/ASR with the Morpheus- Chicken set. Now you can play these sounds and take advantage of the new technology with the investment you've already made. Full patch selects and mod wheel functionality make the morphing effects features stand out.
Comes in various sampler formats: EPS, EPS 16-Plus, ASR-10, and ASR-X. This set is distributed on floppy: 10 DS/HD (ASR's), 15 DS/DD (EPS). They are not available via download, but they can be written to the media of your choice. Please inquire with us about pricing.er.