---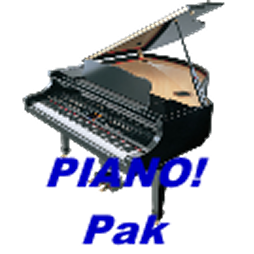 A good sampled piano is hard to come by. It really has to be good - the attack, sustain, and tonal characteristics have to be right on. We have a new expanded package of six PIANO!s for you to examine.
Our first PIANO! was made especially to satisfy the sustained characteristic of the piano. Rich in all the registers, our PIANO! sings when you play chords; it isn't all attack and no body! We surveyed many of the PIANO! owners, and they confirmed it - they thought it was great! It uses only one layer too - for maximum polyphony.
The second PIANO! of the PIANO! PAK is a solid rock piano, bright and solid to cut through mixes. Solid programming spotlights both PIANO!'s - patch selects include our Backwards PIANO!, a real out-of-tune- piano, and additional strings & electric piano for extra sparkle.
The third PIANO! is from the stereo sampled Proformance Plus from E-mu, fourth, a beautiful Schumann Baby Grand, fifth, the realistic and cutting Korg O5/RW piano; and sixth, a complete Yamaha CP-70 electric grand!
And as an extra bonus, there are several electric pianos to choose from - Fender Rhodes, a synthetic piano pad, and PIANO! Accessories (strings and e.piano).
Comes in various sampler formats: EPS, EPS 16-Plus, ASR-10, and ASR-X. This set is distributed on floppy: 10 DS/HD (ASR's), 15 DS/DD (EPS). They are not available via download, but they can be written to the media of your choice. Please inquire with us about pricing.