---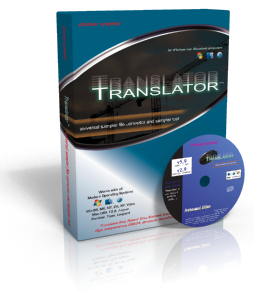 Mac and Windows Compatible
---
IMPORTANT, PLEASE READ!

This product is a Version 7.0, 64-Bit product. If you would like the older 32-bit version, please select the "Legacy" version in the drop down.

This product is iLok protected, either via dongle or online authorization. There is no shipped product on the Version 7.0 edition; however, the Legacy edition is shipped.
After purchase, within 24 hours you will receive a activation code via email, and that will contain all the information you'll need to download and authorize.
Please consult the Supported Formats Page to insure your desired format is supported, either as a Source format or Destination format. We cannot be responsible for you not knowing what is and what is not supported.
As a matter of policy, there are no refunds for software, so please be sure this is what you want before you purchase and before you activate the software. There is a demo - Translator Free - you can try before purchase. And we are happy to address any issue you may run into during use. Be forewarned!
---
Translator™ 7 Hi-Tech Edition includes all Translator 7 functions stated below, plus the reading of Synclavier, Fairlight, Waveframe, and Dream disks and files; and the writing to Fairlight and Dream (writing to Synclavier and Waveframe is promised for inclusion in the future).

---
Translator™ Hi-Tech Edition converts professional sampler formats.
Take any sample library and Translator™ Hi-Tech Edition can convert all of its Programs, Instruments, or Samples - or an entire CD-ROM/Hard Drive - into another format that you can use directly with your desired sampler!
 Program parameter information is translated, as well as the samples and structure. Wavedata, keymaps, looping, effects - EVERYTHING. No program translates better. Translator™ Hi-Tech Edition pays attention to the small details, faithfully replicating your sounds.
Translator™ Hi-Tech Edition is a cross platform application - comes in macOS (works with Intel AND PPC) and Windows 10/8/7/Vista/XP-compatible flavors, and can translate practically every professional format, from Kontakt, GigaStudio, EXS24, Falcon/MachFive, Structure, SFZ, Alchemy, Reason NN-XT, SoundFont, SampleCell, Kurzweil, Ensoniq, Akai, Emu, Roland, and many more. This enables musicians to use practically any sound for their sampler, no matter what format it is in.
Translator™ Hi-Tech Edition has a huge destination format list, mostly encompassing all professional formats, like the ones above. For a complete format list, click here.
Translator™ Hi-Tech Edition offers a huge amount of ancillary functions, such as special utilities of every sampler format. Of particular interest is the Reference Manager, which can relink and change the links to external samples from their program files. Other functions include the powerful AutoSampler and merging into existing Bank-type files, and much more.
Translator™ Hi-Tech Edition also introduces multiple docking windows for excellent use of screen space. Also included is the new SimpleTranslation™ feature, where you simply drag a source file on the application Icon, and Translator automatically translates into your preferred format and location.
Now in it's 16th year in production, Translator™ Hi-Tech Edition is THE industry standard when it comes to professional instrument conversion software.
---
Version 7.0 edition
Maximum OS: MacOS 13 (Ventura), Win 11
Minimum OS: OSX 10.10 (Yosmite), Win 7
Legacy edition
Maximum OS: MacOS 10.14 (Mojave), Win 11
Minimum OS: OSX 10.4 (Tiger), WinXP SP3