---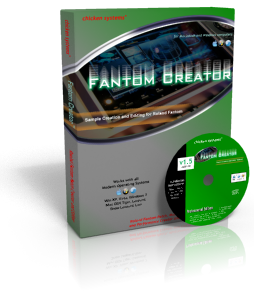 Mac and Windows Compatible
---
NOTES FOR TODAY
This product is a Version 2.0, 64-Bit product. If you would like the older 32-bit version, please select the "Legacy" version in the drop down.

This product is iLok protected, either via dongle or online authorization. There is no shipped product on the Version 2.0 edition; the Legacy edition is shipped.

After purchase, within 24 hours you will receive a activation code via email, and that will contain all the information you'll need to download and authorize. Our systems are not time-tested with this so please be patient with us.
---
Fantom Creator™ opens the door to integrating your own sampled waveforms into your Roland Fantom-S, Fantom-X, or Fantom-G keyboard.
Roland Fantom (modern) support will be implemented at the start of 2022. The update is free to ALL Fantom Creator 2.0 owners.
It's intuitive and clear interface makes your Fantom banks understandable and allows total control of Patches, Performances, Multisamples, and Samples with as few clicks and drags as possible.
Features: Move Programs, even with sampled Multisamples, into other Fantom files. Rename any object; reassign any KeyMap to any Oscillator.
Fantom Creator™ includes the power of Chicken System's Translator conversion engine, allowing you to convert existing Instrument files (Kontakt, EXS24, Structure, SFZ, Reason, others) into a new or existing Fantom file.
Fantom Creator™ creatively allows leveraging your favorite software sampler to edit or create your Multisamples in realtime; simply prepare your Keymap with one click and drag it (for example) into Kontakt. Fully harness the power of Kontakt, and when you are done editing, save your Keymap and the Fantom document is immediately updated. You can also edit sample-by-sample with your favorite sample editor.
Available on both Mac and Windows platforms, Fantom Creator™ can greatly expand the power of your Fantom and increase the value of your investment. Check out the demo at www.chickensys.com (saving is disabled) and see for yourself.
Fantom Creator™ - the next step in your evolution of your Roland Fantom.
---
Version 2.0 edition
Maximum OS: OSX 10.15, Win 10
Minimum OS: OSX 10.11, Win 7
Legacy edition
Maximum OS: OSX 10.14, Win10
Minimum OS: OSX 10.4, WinXP SP3