---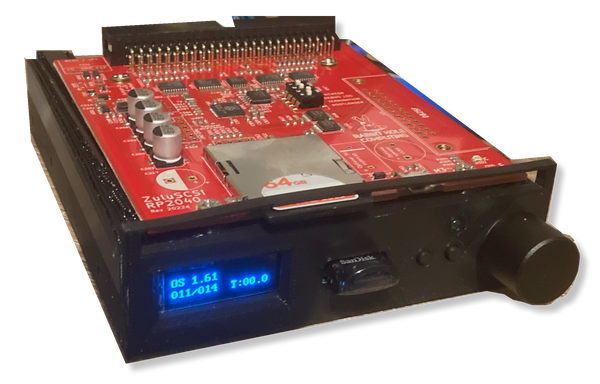 This is a ZuluSCSI board mounted on top of a Gotek Floppy Emulator. This is only for sampler hosts that use SCSI and have the higher bezel: Ensoniq EPS, EPS 16-PLUS, and the Emu Emax I, Emax II. For more information about ZuluSCSI, see the specifics at the Internal ZuluSCSI SKU.

Please note all samplers must already have a SCSI Interface. All Gotek-SCSI units come with the proper SCSI cable that routes to the internal SCSI port and back out to the external SCSI port.
Also note that the video below was created when we thought the Akai S950 had a taller opening like the S900 - it does not.
---
Need a floppy drive replacement? This is THE UNIT you want - no moving parts, and all "floppies" are resident on an included mini-sized 16GB USB jump drive. No more floppies laying around, no more bad floppy disks.
The unit comes set up for your sampler, plus you can contact us privately and we can image the floppies that you have for a realistic cost and put them on the USB jump drive for you.
Also includes the OLED screen and rotary encoder standard, and only available for SCSI samplers or computer hosts that have form factors taller than the normal 25.4mm height:
Ensoniq: EPS, EPS 16-PLUS
Emu: Emax I, Emax II